Posted on November 6, 2009
Tutorial: Using The Open Source CamStudio to Record Flash Game Play Animations
We have found the need to take screen animations of our games lately, but were at a loss on how to do it cheaply and easily. That was until last week, when we found CamStudio, an Open Source utility for capturing video.
CamStudio is a very interesting piece of software. It is available for Windows only, which is a slight downfall (fire-up those Windows XP Bootcamp partitions Mac Lovers), but the benefits far outweigh the trouble of setting it up.
After you have downloaded and installed the program from CamStudio.org, launch it and you will see this screen.
The most important button is the big red circle. This will start recording. Before you press that button, find a Flash game you would like to record. Preferably one with a title screen, and launch it. This can be stand-alone, in a web page, or even in the IDE.
Once you have launched the game, press the
record button. At this point you will get the ability to select the part of the screen you want to record. You can drag the window around the viewable game play area of your Flash Game. Be careful, once to lift the left-mouse button, recording will start immediately.
Notice also, that this works best for a game with a title screen because it will give you the necessary time to select the area you want to record before the game starts. However, this also means that the title screen will get recorded, as will any mouse clicks (this included the cursor) necessary to start the game.
Once recording starts, you will see green "L" (rotated on the corners) shaped icons surrounding the window that is being recorded. This will give you a good idea of what you will see when you are finished. CamStudio will also now display the following window.
This is a diagnostic display of the current recording. This will give you a good idea of the progress of your video capture.
After you have played through a portion of your game and are ready to stop recording, click the
stop button. You will then be give n the opportunity to save the the file as an .avi.
The video can now be uploaded and used (YouTube.com for instance). Below is the raw video I took 20 minutes ago from SpaceEggs with CamStudio.
Video Of Space Eggs:

One of the drawbacks of CamStudio is that it will not record audio directly from your game. It does allow you to record from your speakers or microphone, but I could never get it to work correctly. My advice ti s to play with these features to see what worked bets for you.
Anyway, the raw CamStudio .avi is fine for a short video, but you also might want to edit it,, combine multiple videos, add music, etc. For this you will need a 3rd party piece of software. If you are a Mac User you can try iMovie, which is just OK, but free, so go for it! As far as Open Source goes, jahshaka seems to be the most advanced product, but it also has not been updated in over a year, and it's status seems a bit doubtful. For Windows you can look at Virtual Dub, but it lacks a lot of the editing and compositing featuring you might need to finish your project
My advice is to look beyond Open Source tools, and either fire-up your Windows XP PC (or your now useful Mac Bootcamp partition that sports CamStudio), and purchase a copy of Sony Vegas. The cheapest version is $39.99 (the pro is over $500), but it is WELL WORTH the price. Vegas uses the Sony Acid-style loop interface to create video, and once I got get the hang of it, it's the best tool I've ever used The cheap version allows for 4 video tracks, and 4 audio tracks. This is more than enough to composite, blue-screen (chroma-key), alpha-blend video overlays, create titles, etc.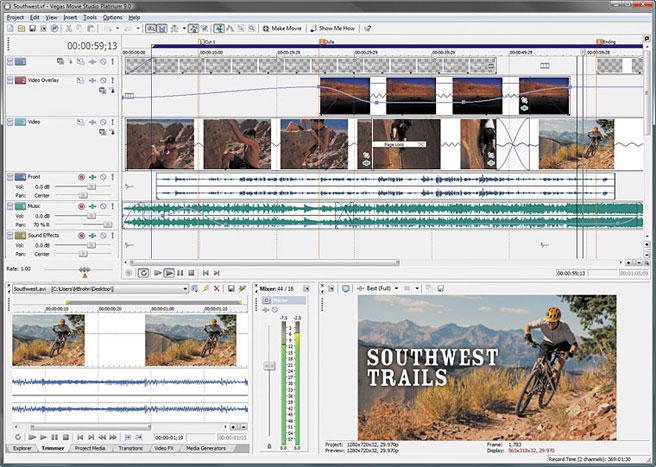 The screen above is what the interface looks like. The "tracking" nature of the product is what makes it so easy to use. If you don't believe me, you can download a free trial to see for yourself. I get no benefit from Sony for saying any of this, I just LOVE the audio and video products the acquired from Sonic Foundry, and Vegas is one of them. Below is the produced demo real I made using CamStudio to capture the video, and Sony Vegas to edit it. This video contains 70+ different clips taken with CamStudio, all compiled and edited in-place with Sony Vegas. I made this in about 2 hours using both products.
By the way, it's interesting to note the reason why CamStudio exists in the first place. The web site for the product details some of it's history. This should be very Interesting to long-time Flash developers:
CamStudio was originally released by a company called RenderSoft who were subsequently bought by a company called eHelp who used some of the technology in their program, RoboDemo …

Some time later, eHelp was bought by Macromedia who wanted RoboDemo (which was to become Captivate) …

Knowing that CamStudio did some of the stuff RoboDemo did for free (mainly export to streaming Flash), it looks like they released a newer version of CamStudio (2.1) which fixed some bugs but most importantly, removed certain features. Gone was the ability to create SWFs, added was the requirement to register to use it, and over time, links to the various webpages that had CamStudio and its source code, became broken.
You read the rest on the CamStudio.org web site.