-8bitsteve
In an alternate universe, Atari released the 7800 in 1984
In an alternate universe, Warner Brothers did not sell the Atari consumer division in 1984, but stuck with it.
In an alternate universe Atari battled with Nintendo throughout the 80's and 90's
In that alternate universe, some amazing games were released for the Atari 7800
In that alternate universe, these are some of the game I would have loved to play on my Atari 7800
The Best Role Playing Games (that pre-date Dragon Quest and Final Fantasy by several years)
The Best Strategy Games
The Best Games From Synapse Software
The Best Games From The Atari Lynx
The Best Licensed Arcade Games 
By Steve Fulton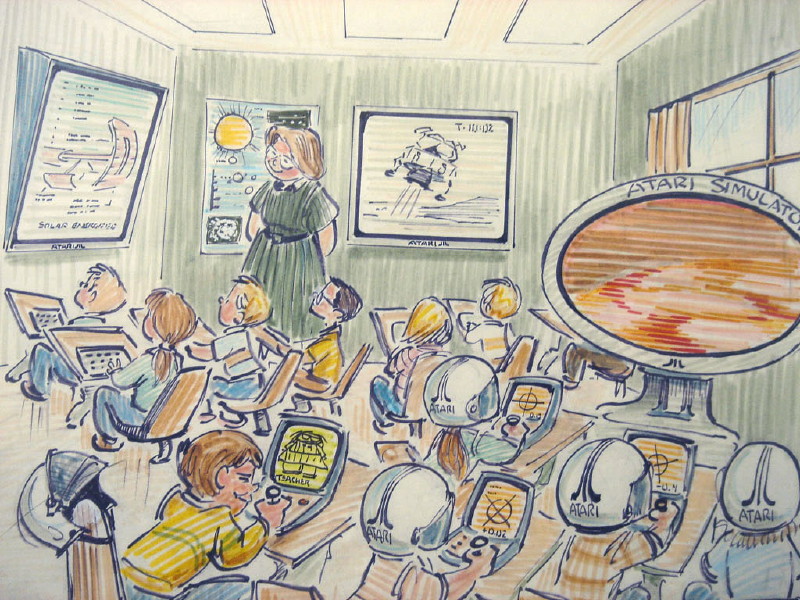 In 1982, during the halcyon days of the original Atari, Bob Stein worked with pioneering computer scientist Alan Kaye in the Atari Advanced Research Labs.    One of their projects was to imagine the future of encyclopedias.    In a set of incredible images from 30 years ago,  Stein just posted a few days ago, The Atari Advanced Research Labs proposed what the future might look like.  In many ways, they were spot-on.  My favorite is included above.  It shows digitally tricked-out,  a 3rd grade classroom that resembles my wife's current  4th classroom so much, it's astounding.
Here is  something to think about this: What would have happened if Atari had not melted down in December 1982, but instead had continued through the 80's and 90's as a top R&D and electronics firm?  Would they be like Sony or Microsoft today?
It's also very interesting to note that Alan Kaye commented on the post  yesterday by saying this:
"People reading this should realize that there was nothing new to be thought up to make these scenarios (they were for Warner execs who were not sophisticated about computers despite having bought Atari).
The ideas were all drawn (pretty much without exception) from the visions and demonstrations of the ARPA-IPTO research community in the 1960s, ca 1968. Main sources were Licklider, Taylor, Doug Engelbart, Nicholas Negroponte, Ivan Sutherland, Seymour Papert, some of my ideas back then (such as the wireless tablet computer), and many others from our colleagues."
Of course, what Mr. Kaye misses is the fact that everything has Atari symbols on it,  that's what makes it cool! 🙂
You can see and read the whole thing over here.  It makes for fascinating reading and amazing viewing..
By Jeff Fulton

"To create a song that has mass appeal is among the most difficult things you'll ever do."
According to Gamasutra, Gary Garcia, 1/2 of Buckner and Garcia died yesterday.   Back in February we contacted Jerry Buckner about he 30th Anniversary of  Pac-Man and Buckner And Garcia's song, "Pac Man Fever".   At the time we thought it would be cool for Hollyqood to make a movie about their story.  Today, we think it is essential!  Come on Hollywood producers, "the 80's" are hot right now, and what what could be better than a "rise and fall" fable about music and video games combined?
Below is the original story from earlier this year:
Here is some 16K inspirations for you.  The following are videos of some Atari 5200 games made in 16K or less.  The ROMs for these games fit on a 16K cart.  the games used the plethora of hardware features available for the Atari 8-bit line of computers (hardware sprites, 4-voice audio, display lists, etc.)  They are akin to the types of features you would find in a Flash, Silverlight, etc. player.   This should give you some idea of what the game programmers from the 80's were able to squeeze into 16K while using the resources of the platform available to them.
Gyruss
Q-Bert
The awesome, though seemingly under-appreciated site, Atari Mania, has hand-scanned (a lot of f***ing work I might add)  versions of the entire 43 issue series of the UK-based Atari User magazine. This is of special interest to USA-Based Atari 8-bit computer fans because just as the 8-bit range was dying here, it was seeing a large resurgence in the UK (circa 1985).
These issues of Atari User Magazine have a unique perspective and a slightly different focus than the Antic, Analog, and Atari Explorer 8-bit dedicated magazines from the USA.  For example they tend to give hard sales numbers and focus on the industry as a whole in their editorials. Not that Antic (for example) didn't do this to some extent, but I remember searching far and wide for this type of information in the USA-based publications and coming up short most of the time.
Like its American cousins though, there is plenty of 8-bit coverage with the "gathering storm" of ST related editorial beginning to rear its head even in the beginning issues. They never waver from the 8-bit  though and it is very interesting to see the progression in coverage until the final issues in late 1988 - just as the Atari ST was storming through the UK and beyond (not yet realizing they were about to be pummeled by an Amiga wallop, but that was a year or two out).
From reading these final issues, the decision to finally compete on even game-playing terms  with The Amiga by releasing the powerful STE range was far too late in the game to have any significant impact.  The advent of the cheaper and more powerful consoles (such as the Megadrive/Genesis) certainly helped seal the coffin on both the 8-bits and the ST range with extra magical wax.
During the later years a "pull-out" section called "Atari ST User" was included to dedicate coverage to the new line of 16-bit computers. This was very much like how the USA-based "Start" magazine begin inside issues of Antic magazine.  The Atari ST User name would be sold to "Page 6" to be used in a dedicate Atari ST User Magazine, simply called "Atari ST User".
Back to the 8-bits, one very interesting thing about these magazines is the sheer number of UK-based game titles that I had never heard of for the 8-bit range. Atarimania has rom/exe/and disk versions of most Atari 8-bit software, so I found myself digging into my emulator and loading up a few gems that I had just learned about. Maybe I'll make an HTML5 or AS3 version of one of them if I find the time.
Atari Mania also has a page full of other Atari-related publications for your viewing pleasure.
It turns out, a company has bought the "Commdore" name and is planning to create a PC housed in a Commdore 64 case.  that's awesome. However,  personally can't buy one as it is simply against my Atari sensibilities to do so.   However, if Atari would do the same thing, with the Atari 800 (too large actually), 65XE (too small) or the 800 XL (just right), I'd buy it in a second.
So how about it Atari?
Full press release below:
COMMODORE ANNOUNCES EXCLUSIVE WORLDWIDE LICENSING RIGHTS
Companies ink deal to produce new line of All-In-One keyboard computers.
FT. LAUDERDALE, FL and OLDENZAAL, THE NETHERLANDS, August 25, 2010 – Commodore USA, LLC and Commodore Licensing B.V., a wholly owned subsidiary of Asiarim Corp (OTCQB: "ARMC"), today announced their licensing agreement whereby Commodore USA, LLC will produce a full line of new Commodore branded "AIO" (All In One) keyboard computers, under an exclusive worldwide license granted by Commodore Licensing B.V. for this newly revitalized computer category.
Mr. Barry Altman, President and CEO of Commodore USA, LLC states "We are ecstatic to be partnering with Commodore Licensing B.V. in this new, exciting product launch. The legacy of the Commodore C64, which sold over 30 million units, making it the best selling computer of all time, and our reintroduction of this legendary form factor, combined with the world's most recognizable consumer electronics brand, is a once in a lifetime opportunity. We look forward to bringing these new products to market, and welcoming a whole new generation of computer users to the Commodore experience".
In response to an overwhelming demand from former Commodore users worldwide, Commodore USA's CTO Leo Nigro announced today that their new Commodore PC64 will be available for purchase this holiday season. Featuring an exact replica of the original beige chassis Commodore C64, this new addition to our lineup will include an Intel Atom 525 CPU with NVIDIA Ion2 graphics, 4GB DDR3 memory, 1TB Hdd, HDMI, DVD/CD optical drive (Blu-ray optional), dual-link DVI, six USB ports, integrated 802.11n WiFi, bluetooth and a 6-in-1 media card reader.
With the recent introduction of their flagship Phoenix model, Commodore USA has once again catapulted the Commodore namesake to the forefront of consumer electronics brand recognition. Other Commodore keyboard computers include the Amigo, a basic entry level computer featuring a system on chip configuration, and the Invictus, featuring a small portable form factor with an embedded LCD screen display.

About Commodore Licensing B.V.:
Commodore Licensing B.V., a wholly-owned subsidiary of Asiarim Corporation (OTCQB: "ARMC"), is the licensor of the trademark Commodore, and grants other parties licenses in connection with specific products or services. Asiarim Corporation is also investing in companies engaged in, or related to, the development, sales and distribution of computer, mobile and multi-media products marketed under the brand name Commodore.
About Commodore USA, LLC:
Commodore USA, LLC designs, produces and markets a series of all-in-one Commodore branded keyboard computers, and other unique form factor computers and consumer electronics.
Barry S. Altman is the President and CEO of Commodore USA, LLC, based in Fort Lauderdale, Florida. Spanning a 25 year career in the bleeding-edge electronics and satellite/space telecommunications industry, Mr. Altman founded and served as CEO & President of Cabletech Satellite Systems, Inc. U.S. Cable Technology, Inc., The Cabletech Satellite Network and United Broadcasting Co. This group of companies built NOC's (Network Operation Centers) for cable television programmers, and cable television head ends for cable companies throughout the United States, They designed and constructed the satellite uplink network operation centers for such companies as Viacom International, Warner Amex, Viacom and MTV Networks. They directed and produced the domestic satellite telemetry downlink for the Live Aid concert for MTV, which was at that time the largest world wide deployment of a live satellite television broadcast. Cabletech has manufactured, designed and installed systems for Grumman Aerospace, The United Nations, government and private industry, and over 45,000 TVRO C& Ku band satellite systems for businesses and consumers nationwide. Cabletech was a developmental partner with General Motors & Hughes Communications in the small aperture DBS system that later became DirecTVv.
If I won the lottery, I mean like $100,000,000 lottery, I would open an Atari Store.
It would be in some kind of upscale mall or location  like Downtown Disney, Universal City Walk, The Beverly Center, The Grove, downtown San Francisco or Times Square
The store would act just like everything from Atari was still available brand new, and was just recently released.
I'd buy-up as many mint-condition products as possible, and  they would sell for a premium.  If they did not sell, so what?  I won the $100,000,000 lottery.
I'd also try to get some of the original hardware and games re-manufactured, to classic specifications, using classic technology. Why?  Just because I could.
If I owned an Atari store I would commission new games for old systems to be programmed by the original programmers who made them the first time around.
I'd also set-up new Atari systems and let anyone play them when they came in.  Atari consoles, Atari computers, Atari arcade games, and even an Atari pinball machine or two.
I'd hire a bunch of young people wearing Atari t-shirts, and they would be called "Nerds".  "Atari Nerds".  They could answer all your Atari questions.
I would open a dark ride themed to Atari in the back of the store.  You would enter a spinning hot tub and dodge venture capitalists,  Warner execs, patent lawsuits, and finally, escape the crash of video game industry and make it out alive.
If I owned an Atari store, I'd work there full time.  I'd sit behind my desk, a wood grained console tube TV with a 2600 playing Combat! attached.
I would not answer any questions, that's what the nerds would be for.  Instead, I'd work behind my desk.  I'd be programming all day long, building a magnum opus 8-bit RPG that would never be finished.
Why would it never be finished?  Because I won the $100,000,000 lottery, and I owned an Atari store with games and a dark ride dedicated to Atari.
If there were any profits from my Atari store I'd use them to form a new company: Dangerous Playgrounds For Dangerous Kids.
We would design playgrounds filled with 70's style playground equipment made with metal bars, ropes, tires, and sand.   Play equipment would spin, and shake, and move in seemingly dangerous ways.
There would be giant sand hills, merry-go-rounds, multiple tire swings connected with chains and bolts into a giant circle, drop off metal slides with metal rollers , and rockets to climb 50 feet in the air.  All the parents would be far away, sitting on the benches, knitting or smoking and reading books and newspapers.
You could play on our playgrounds without sunscreen, and with or without shoes.  Food with granulated sugar, gluten, lactose, peanuts and red dye #5, would be allowed no questions asked.
Each playground would have areas to play games like  tag, ditch-em, socco, hand-ball, butts-up, kick the can,  and dodge-ball.  Grocery store cap gun, plastic disc, and plastic pellet gun arenas would be available, but would be so popular you'd need reservations.
There would be street lights on the playgrounds.  When they came-on, it would be time to go home.
Home to play Atari.
-8bit Steve